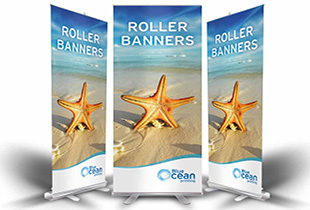 Roller banner printing & what makes for great design
Roller banners are an essential part of drawing attention to your business at a conference, exhibition or trade show, and within this somewhat dog-eat-dog environment, it is hugely important that your banner stands out from the crowd of potentially hundreds of other businesses.
While you might have similar approaches to many aspects of your promotional material, it is important to tailor them to their purpose and think about the people who will be seeing them. At Blue Ocean Printing, we offer roller banner printing in a range of specifications and sizes, and allow you to upload your own image to display as a beautiful point-of-sale roller banner. Here are a few tips as to how to get the most from them.
Heights
Our banners are measured at 800 x 2000 mm, which is high enough for all passers-by to see, without being too short. But it is important to catch their eye. Make sure that you keep you company logo towards the top, at eyeline level – that way people will notice it immediately and get a quick first impression, or will be drawn to the logo if they know the company already.
Content
Keep the content snappy with just a line or two to draw the punters in. No one wants too much information – that's where you come in as representatives of your company. Also, a call to action may be required: perhaps a "sign up here" or "collect a brochure" line towards the centre of the banner. Finish with contact details and a catchy sign off.
Colours and images
Keep the colours of your roller banner in keeping with your company and what it does, as well as with the main thrust of your advertising and marketing material that you use already. If red is the colour of your company, make sure that the banner features red heavily too. This will create excellent brand recognition and positive associations. On top of this, keep the images simple; clutter is not your friend when it comes to catching people's eye and keeping it there.
Talk to the Experts
Whether you need roller banners, business cards or anything else, Blue Ocean Printing has a fantastic range of products to suit any need, so get in touch or browse our site today to start thinking about the marketing material that your business needs.