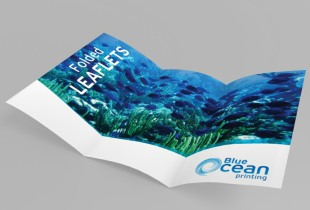 Leaflet printing and design tips
In today's digital age, you'd be forgiven for thinking all your business marketing should be online, but in fact traditional methods can still boost your name and reputation. Leaflet printing is one of the best examples – a memorable leaflet or flyer, either pinned up in a prominent place or handed out in person, gets your message across and stands out from the competition. Here's how to ensure your design is better than the rest.
Make it easy to get in touch
Potential customers don't just want to be given a phone number or a website to check out – make it as effortless as possible for them to reach you. Add an email address to your printed leaflet, so they can get in touch quickly, and list any social media channels you're on. If you're promoting a public-facing business where people need to visit you, such as a shop or warehouse, consider adding a map image along with your address so they can find you without getting lost.
Match your design style to your business
Think about your customers. Are they fun-loving, super stylish or very minimalist? Leaflet printing works best when the design reflects the business, and a good design team will make sure the fonts, colours and images all suit your target market – for example, beauty companies look fantastic with script-style fonts and purple or pink shades, whereas health businesses convey their message best in blue or green shades with simple sans serif fonts. At Blue Ocean Printing we can even come up with a logo if you don't already have one. The end result is an eye-catching leaflet that really speaks to your audience.
Insist on high quality
Your leaflet is your calling card, so don't let slip-ups create a bad first impression. Proof-read the text before you send it off (or ask a friend who's a whiz at spelling and grammar!) and check there are no mistakes in the contact information. Edit out any text that doesn't need to be there – less is more, and blocks of text can often be cut altogether or slimmed down into bullet points. When it comes to supplying your own images, find something that's big enough not to pixelate or look grainy, or simply let your designer choose classy stock imagery that reflects your message.
So, what are you waiting for? Leaflet printing is a great way to promote your business in person. Give it a try and see the results for yourself.
Talk to the Experts
Whether you need flyers, leaflets or anything else, Blue Ocean Printing has a fantastic range of products to suit any need, so get in touch or browse our site today to start thinking about the marketing material that your business needs.